Bones
is an American drama television series on the Fox Network. The show is a forensics and police procedural in which each episode focuses on an FBI case file concerning the mystery behind human remains brought by FBI Special Agent
Seeley Booth
to the forensic anthropology team of Dr.
Temperance "Bones" Brennan
.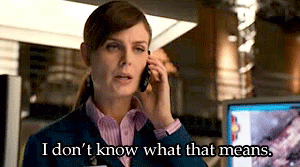 "I don't know what that means" is a statement frequently uttered by Temperance Brennan.
Despite Brennan's extensive knowledge of anthropology, she is quite unaware of pop culture; her co-workers, particularly Agent Booth, like to tease her about it. A running gag on the series is someone making an obvious popular culture reference and she blankly states, "I don't know what that means", and she is somewhat excited on the rare occasion that she does understand them. Read more >>


Which guest star are you most looking forward to seeing in the Final Chapter of Bones?

Loading RSS data...
Create blog post

I'm rewatching the entire series of Bones on Hulu.  During season 2, I noticed that Booth shoots right-handed, but wears his gun on the left.  Does anyone know why this is?  In all the cop/military shows I watch, I've never seen someone wear their gun on the oppos…

Read more >

Does anyone think that Zack might be innocent? Post your ideas.

Read more >

Bones may be nearing the finish line.

Asked about the show's Season 12 renewal prospects Friday at the Television Critics Association winter press tour in Pasadena, Fox co-chairman and CEO Dana Walden said she's "really not sure" about a pickup, adding, "It's top o…

Read more >

THERE ARE THREE MORE DAYS UNTIL BONES COMES BACK ON!!!!!!

Sorry 'bout the "all caps," but I'm just really excited!

-Elayna

Read more >

I am searching for a scene from "Bones" that uses DNA to find a criminal. I'm specifically interested in a scene that takes a DNA sample, runs it quickly, and gets a match on CODIS. I'd appreciate all suggestions. Thanks!

Read more >

See more >
---