Bones to Ashes
is a book written by
Kathy Reichs
.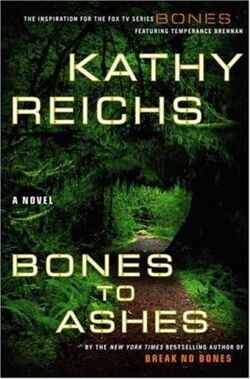 The relationship between Temperance and Evangeline in the book Bones to Ashes was sisterly relationship between each other. They both enjoyed the same activities and their communication allowed their friendship to grow as the years went by. Evangeline was not your typical kind of teenager in my point of view. She loved to read poetry write it as well. She had a mature mind of what she wanted to write about and do with her life. But, something about Evangeline's personality showed that was under her power to look for her best friend. But as the years went by and she got older, the hope began to disappeared slowly and all she could keep was the memories because her best friend was gone. Obeline's way of living in the book seemed very sad; her character shows the effect on a woman who was left alone, beaten, and burned almost to death. Not knowing what happened to her sister shows that she was more alone than anything and the book that was made Evangeline poetry was one of the only things that made her happy. The book showed Evangeline's emotions and secrets which makes the book meaningful
In the book Bones to Ashes, Temperance Brennan, a forensic anthropologist, believes that the bones she finds on her desk are those of her long-lost friend, Evangeline Landry. She believes this because the age and location where the bones were found match those of Evangeline. The clues indicate that Evangeline was a victim of a serial killer because many young girls were disappearing and found dead around where Evangeline's bones were discovered. Also, Evangeline's brother-in-law is suspected for a couple of suspicious murders.
Community content is available under
CC-BY-SA
unless otherwise noted.