Dr. Lance Sweets was an FBI agent and psychologist, mainly assigned to Seeley Booth and Temperance Brennan.
Character history
[
]
Writing
[
]
It was initially learned Sweets was writing a paper on Booth and Brennan's relationship because he thinks it's not supposed to work but it does, which is why he asked them if he could continue his analysis of them. While they constantly mock him and, sometimes join together to turn against him, Booth and Brennan really understand Sweets does like them and that is why he wanted to work with them after their therapy ended - in exchange, he would occasionally provide psychological profiles of the killers they encounter. He vehemently denied emotional attachment to them, but they are all aware of the emotional connection, though they would hide it with banter.
In the episode "Mayhem on the Cross", Dr. Sweets receives a review by Dr. Gordon Wyatt of his book on the relationship between Booth and Dr. Brennan. Dr. Wyatt explains he feels Sweets has misinterpreted the relationship between Booth and Brennan, mostly by looking on a somewhat superficial level. The primary focus of the work is how Booth and Brennan are opposites, yet their sexual attraction is limited due to their primary responsibility to their careers. Dr. Wyatt explains he feels Booth and Brennan are much more similar than Sweets understands, and there is an underlying sexual attraction only one of the two sees. He also tells Brennan and Booth Sweets is using his book as a way of finding his place in the world, and he has created his emotional connection with them as a way of finding a family, something Brennan compares to "imprinting" like a baby duck, though they eventually accept it. At the end of Mayhem on a Cross after Booth and Brennan invited him over for dinner at Dr. Wyatt's apartment, it is seen that Sweets has changed the title of his work to "Bones - The Heart of the Matter," which obviously alludes to the physical bones Brennan works with, and the person Bones (Dr. Brennan) herself.
After reading Sweets' manuscript on the book he was writing about their partnership in The Parts in the Sum of the Whole, Booth and Brennan told him about their first case together before Pilot. Sweets believed that Booth and Brennan are in love and that the energies of their connection are responsible for the effort they put into murder investigations, but after they told him about how they kissed for the first time in the middle of that investigation, he bluntly stated that "My [his] book is crap." and he possibly abandoned the idea of publishing it afterwards.
In The Psychic in the Soup, on the first birthday after his death, his tradition of giving gifts to his friends is continued. The final completed version of his book, rewritten to focus on the romance between Booth and Brennan rather than to be a psychological study, is presented to them after the thumb drive containing the file is found in his car right before Daisy sells it. Angela and Avalon presented it to Booth and Brennan with its final title: "Parts of the Whole".
Brennan recovered a copy of Sweets' book from the wreckage of the Jeffersonian after it was blown up by Jeannine Kovac and Mark Kovac. It implies that Booth and Brennan were able to publish Sweets' book for him after he died.
"Dedicated to Temperance Brennan and Seeley Booth, the people who taught me that understanding, compassion and love are not just notions in a book. My life means more because I know you."
Relationships
[
]
Platonic Relationships
[
]
Booth and Sweets had a brotherly relationship, as shown in El Carnicero en el Coche when Booth says "To Sweets, the little brother I never wanted but am glad I have". Throughout the show the two will give each other advice. Booth however does not always like to talk about his feelings very much and will often not go asking for advice. If he does he tries to get around the main questions. However Sweets will straight up ask Booth for advice mainly on relationship. The two will often tease each other mostly Booth teasing Sweets about his job. Despite the teasing it is shown that Booth respects Sweet and it seems that Sweets understands this and goes with the flow. "Go use your shrinky brain on them." is a quote Booth will often say when Sweets needs to go talk to suspects. After Lance breaks up with Daisy he is seen sleeping in his office. Booth helps him out and offers for him to stay a few nights. Booth does get uncomfortable a few times when Sweet oversteps like folding his underwear and taking a bath in the master bathroom. However Booth gets over it and tells him to stay as long as he needs. However Sweet reveals that he knows about the bets to see how long it takes until Sweets leaves the house or gets kicked out. Booth says he bets on 2 weeks. Over the course of several episodes Lance is still staying over and it becomes unknown how long he stayed there but it shows that no one seemed bothers as he becomes useful for watching Christine from time to time. Sweets asked Booth to be his unborn son's godfather, showing that Sweets loves Booth greatly. Booth was the most saddened by Sweet's death, willing to do anything to avenge him and he claims that the weight of the guilt he felt is what drove him to gambling again in The Doom in the Boom. Sweets was even going to name his son Seeley, Booth's first name (which was carried out, Daisy giving him the name Seeley Lance). Booth was touched by being given Sweets's final version of his book in The Psychic in the Soup, which he had changed into a love story to act as a tribute to their relationship rather than a psychological study on Booth's and Brennan's partnership, on what would have been Sweets's 30th birthday. In The Friend in Need, Booth admits that on a rape and murder case Sweets solved, he'd already figured it all out but let Sweets solve it in the end as he was emotionally involved. 
Brennan never completely believed that Sweets' profession was believable because she believed that Psychology is not a real science and stated this repeatedly throughout the progression of Seasons 3 through 9.
Bones: And I should accept your theory based on what?: "Sweets"
Over and over again, I've proven to you that I'm good at what I do. So, please, explain to me how it is rational in any way for you to disregard what I say?: "'"
— The Doctor in the Photo
Although she thinks he shouldn't call her "Bones", according to the episode Fire in the Ice; it is shown in the episode Mayhem on a Cross that he is writing a book about Bones' behavior and attitude, by the end of the same episode, Bones shows that she treated Sweets like a real friend, and maybe even as a part of her family. Bones seemed saddened of Sweets's death, showing that she cared for him very much. Bones also told everyone that none of us would be who we are if it weren't for Sweets. Like her husband, Bones was touched to receive Lance's final gift, the final version of his book, altered to not be a psychological study but their love story.
Sweets was more than just a therapist to Brennan, He was family, he was someone she could always count on, he will be forever missed and never forgotten.
Sweets became Zack's psychologist after Zack was institutionalized for his role in the rampage of Gormogon. He visited Zack almost every week for the past seven years before his death. Zack used Sweets' key card to escape the institution to help Booth and Brennan solve the murder of Jared Addison. After solving the case and spending time with Hodgins, Angela, and Cam, Zack returned to the institution with Booth. After Booth left, Zack revealed to Sweets that he never killed Ray Porter, but told Gormogon where to find him. Using this newfound knowledge, Sweets determined that Zack is not a killer at heart and deserved to be released. Sweets wanted him to change his story and tries to call Brennan and Booth, but Zack wanted to keep it between the two of them because he believes that if his secret gets out then Booth would throw him in prison and Hodgins assured him that he would not do well in prison. Sweets wanted Zack to tell the truth because he believed that The Apprentice was still out there, but Zack reassured Sweets that Gormogon killed him so he could recruit Zack since "there could only ever be two." Zack reminded Sweets that if he told anyone without his permission, then Sweets would be violating doctor-patient confidentiality. The episode closes with Zack at the institution and Sweets keeping Zack's secret, despite his visible worries about Zack.
It was revealed in The Hope in the Horror that when Sweets was murdered, Zack had trouble processing. He fell into a fit of rage and injured his head, leaving behind a long lobotomy-like scar across his forehead. Ever since then, Zack was withdrawn with everyone at the sanitarium. Sweets' theory about Zack was revealed to be true after Zack couldn't bring himself to kill The Puppeteer, even in self-defense. In the end, Zack finally revealed to Booth and Brennan his and Sweets' secret, that he never killed Ray Porter. Booth and Brennan agreed to help Zack get released after they find the real murderer of Ray Porter and finishing a part of Sweets' unfinished business. They were eventually able to exonerate him after locating the body of The Apprentice, although he will have to finish the remaining thirteen months on his sentence for assisting a known serial killer, which he accepts as it was better than the charges he was facing before. It can be assumed that Zack still misses Sweets and considered him a friend despite their professional courtesy.
Sweets is more like a helper for him, and always tried to help him solve his problems, especially the ones involving Angela. For example, he tried to figure out what was wrong with Angela's father while he was in town to teach Hodgins a lesson in the episode The Science in the Physicist, but Sweets was unable to get any information from him. In The Plain in the Prodigy, Sweets was called in by Booth to figure out why the murder victim in the episode, Levi Yoder, had rocks under his bed. He rearranged them to make it look like a keyboard for a piano. Hodgins seemed very saddened about Sweet's death, and called Sweets a good man.
In the episode Mayhem on a Cross, Sweets showed a great interest in Wyatt's job, and shows him that he read his book, giving the idea that he is a big fan. Although, minutes later, Sweets shows that Dr. Gordon is more like his mentor, as Wyatt not only helped Lance with his book, but also helped him with his childhood problem, by doing that, also helped a little bit more with Sweets' book about Bones' behavior. Gordon appeared to be upset when Booth mentioned Sweets in The Steal in the Wheels.
Not much is known about Clark and Sweets's relationship, but Clark seemed very hurt about Sweets's death, but tried to keep a calm mind. Clark also felt that it was a shame that not all of them could have hit Durant (the man responsible for Sweets's death), showing that Clark was truly angry about Sweets's death. Even by bluntly stating that a slow and painful death was exactly what Kenneth Emory deserved. Clark also attended Sweets's funeral and sang Da Lime in Da Coconut, (Sweets's favorite song), showing that Clark respected Sweets.
Romantic Relationships
[
]
See also Sweets and Daisy
In season 4, he is shown to be dating one of Dr. Brennan's interns, Daisy Wick, though he is forced to fire her on Cam's behalf. The relationship is hinted at the end of "The Man in the Outhouse," when he calls her after a session with Brennan and Booth, and confirmed at the end of "The Skull in the Sculpture". It is clear he is quite protective of her, quickly disparaging the notion he could be ashamed of her by kissing her in front of the team—something surprising them all greatly.
In one episode The Cinderella in the Cardboard, Daisy is viewed fitting a wedding dress with an unknown male by Booth and Brennan. After much deliberation, Sweets confronts her, at which point they quickly resolve the fact Daisy is not having an affair, and she was simply fitting the dress for her cousin, and the unknown male was her cousin's fiance. At that point, Daisy closes the blinds to Sweets's office and they begin disrobing as the camera pans to another point of view. In The Bones on the Blue Line, he proposed to Daisy. Daisy's nickname for Lance is her "Sweet Lancelot"—a reference to his name, Lance Sweets, and to the romantic character, Lancelot, of Arthurian Myth.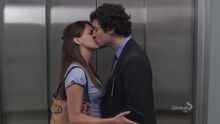 They subsequently broke up in The Mastodon in the Room, but shortly got back together with Lance even contemplating proposing to her a second time but not going through with it. Ironically, twice Lancelot wanted to propose and each time he left her. Later on during the next season, she admits sometimes she misses him. Bluntly, she also admits to missing the sex they had.
In season 10, "The Conspiracy in the Corpse", it is revealed that he and Daisy got back together again. The reconciliation of their relationship resulted in her pregnancy. She's seen approximately 5 months pregnant with their son; whom she calls "Little Lance" affectionately. Sweets, unfortunately, never gets to see his son's birth. He's killed by a corrupt assailant named Kenneth Emory later in the episode. One of his last thoughts was of Daisy, and he requested to Dr. Brennan to tell her "not to worry", stating she worried too much.
He dated April, a tropical fish specialist until she broke up with him in "The Man in the Mud".
In the Season 8 episode "The Gunk in the Garage", Sweets turns down a fellow FBI agent, Olivia Sparling, who is obviously interested in him, citing his serious relationship with Daisy; however, Olivia plants a huge kiss on Lance Sweets after shooting him accidentally. After his break up with Daisy, he did start a one time thing with Olivia, but it did not last long.
In Season 9 episode The Drama in the Queen, he and Jessica has a one-night stand.
Education
[
]
Undergraduate - Degree in psychology from the University of Toronto
Masters - Degree in abnormal psychology from Temple University
Trivia
[
]
He had a brotherly relationship with Booth.
He called Brennan "Bones" twice.
He liked a variety of rock music.
Like Vincent, Sweets also liked the song Put The Lime In The Coconut, claiming that it was his jam.
In Double Trouble in the Panhandle, Sweets revealed that his biological mother was a psychic who worked the circus and carnival circuit in Florida.
In The Bones That Foam, Sweets said that he used to teach psychological techniques to car salesmen to make money for grad school. "Not one of my finest moments."
He said that he used to have a 'thing' for Angela in The Science in the Physicist. However, his fear of Billy Gibbons eliminated his crush.
He sponsored water buffalo in the Philippines.
After getting certified to carry a weapon in The Prince in the Plastic, despite Booth's protests, he stated that he became a Master rated marksman, which was stated in The Future in the Past.
Sweets is the first and only main character to die on the show.
Sweets and Hodgins were the only two characters who made a cameo in the spin-off series; The Finder. Sweets appeared in Bullets.
He had a son with Daisy, but never got the chance to meet him, due to his death. Daisy still states that she'll always think of him and misses him.
He drove an early model Titan Silver (1999-2002) BMW (E46) 318i
Like Brennan, Sweets was also a foster child and never had any birthday parties.
Like Booth, Sweets also had an abusive father. Unlike Booth's father who is biological, Sweets' father was one of the foster parents he had when he was in the system.
Sweets was the only person who knew that Zack was innocent for the murder of Mr. Ray Porter. Since Sweets died, what would happen to Zack remained unknown until the Season 11 finale; The Nightmare within the Nightmare. After The Puppeteer was killed and Zack confessed that he never killed the lobbyist, Booth, Brennan, Angela, and Hodgins, and Dr. Wyatt investigated Zack's innocence in a major story arc throughout Season 12 and were able to locate the body of The Apprentice and exonerated him from the murder charge and the life sentence, and all the while completing a part of Sweets' unfinished business.
In "The Master in the Slop," it was revealed that he was a brilliant chess player, at one point the youngest chess master in the federation of competing chess players. He made such an impression that even 10 years after he stopped competing he was still recognized on the circuit.
When he was a child, he fell out of a tree house after losing his balance on a rope ladder.
He was a proficient piano player and would play to his unborn son every night.
It was his idea to name his son Seeley after Booth.
His favorite food was pizza.
His favorite song was "Da Lime in Da Coconut," and he sang it when sending Vincent Nigel-Murray's body back to the UK. It was eventually sung at his funeral ceremony. He also sang it when running on a treadmill.
References
[
]