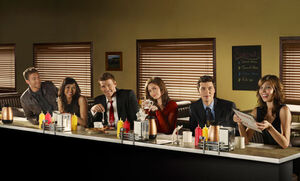 The Royal Diner is the place where the people from the Jeffersonian Institute eat and drink. It provides a location for characters to discuss problems outside of the work context, that is when they interact as friends, not co-workers.
It is located in Washington, D.C., and is close to the Jeffersonian. Established in 1948 and having 'The Best Burgers in the District' and (as of season 10) is run by Frankie Cooper, It is open 24 hours and regularly serves burgers, fries, pies and other kinds of food and drink including lobster on Thursdays.
The architecture of the Royal Diner was made from the set of the diner used in The Man in the Morgue.
Many of the Jeffersonian team including Brennan, Hodgins, Zack, Angela and Cam along with some of the Interns have been seen eating or drinking something here.
FBI personnel, Booth and Sweets regularly go to the Diner as well to either hang out with the team or to discuss things in general. In "House", season 4, episode 12, the Royal Diner can be seen across the street from inside the Korean restaraunt where House suprises Wilson and Amber. "House" is set is Princeton New Jersey, but filming was done on Stage 16, 20th Century Fox Studios - 10201 Pico Blvd., Century City.
The Royal Diner façade also appears in the music video for "Alligator Sky" by Owl City, "Uptown Funk" by Mark Ronson and Bruno Mars, "Nine in the Afternoon" by Panic! At the Disco, and "Better When I'm Dancin'" by Meghan Trainor, The Arcadian Building in the television show "How I Met Your Mother," the "No Good Deed" teaser for Deadpool 2, and in a Budweiser commercial.&nbsp