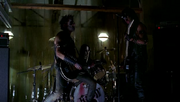 Spew was a death metal band from Washington D.C., and an important plot point in the season 4 episode Mayhem on a Cross. An unspecified time before the episode, vocalist and bassist Justin "Mayhem" Dancey was strangled and buried. Murderbreath, the lead singer for rival band Zorch, later exhumed Mayhem's remains and used them as a stage prop, which continued until Norwegian band Skalle stole Mayhem's skeleton and used it as their own stage prop. Following an intervention from Norwegian police, Mayhem ended up on the Jeffersonian platform.
The band is introduced by Angela after running a facial reconstruction, and after Clark determined where the rehearsal site was, Booth went there with Brennan and Gordon Wyatt to question them. The band made their first appearance on-screen (and only appearance as a musical outfit) rehearsing, which was cut short as guitarist Matt "Pinworm" Stickney spat on Booth's badge, prompting the latter to shoot up Pinworm's amplifier.
In questioning, it's revealed that current bassist Darryl "Grinder" Moss was a childhood friend of Mayhem's, and that rival band Zorch had used his skeleton as a stage prop (although Grinder may have desired to do the same thing), which Zorch singer Murderbreath confirmed later on when pressured by Brennan.
Later, it's revealed that Mayhem had requested to join the band of his former girlfriend Lexie, a power-punk singer who used to "shoot" Mayhem in the throat with a set-piece gun (and later in the butt with a real gun). In the metal scene, going mainstream would be considered the ultimate betrayal - perhaps even aggravating enough to cause a hardcore metal fanatic to actually kill Mayhem. This information ultimately leads down to Pinworm, who unwittingly confesses to strangling Mayhem when Booth uses Pinworm's vanity and hunger for an audience against him. After this, the band's future is uncertain.
Current:
Darryl "Grinder" Moss: Vocals, bass guitar
Monty "Wrath" Bigelow: Drums
Former:
Justin "Mayhem" Dancey: Vocals, bass guitar (deceased)
Matt "Pinworm" Stickney: Lead guitar (arrested)
Musical style
Edit
Spew plays death metal, preferring to stay entirely underground only playing concerts at the slaughterhouse where they rehearse. According to Pinworm, their music wasn't made to be enjoyed, but to be feared.
In rehearsal, Spew performs the song "God of Anger" by Droid. Droid has two guitarists, however Spew only has one. Droid also has a lead vocalist who only sings, whereas Mayhem (and later Grinder) would sing and play bass simultaneously.
Community content is available under
CC-BY-SA
unless otherwise noted.