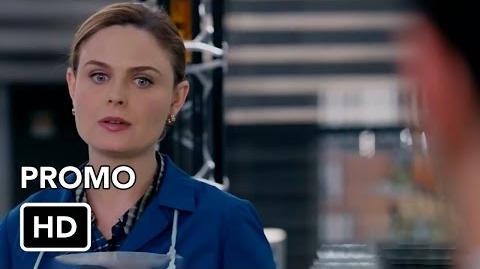 This is the thirteenth episode of the tenth season of Bones.
A man is escaping from a pursuer... and stumbles onto a demolition site, where he is blown to bits. When his body is found in pieces, the Jeffersonian team discover that his ankles were bound, and a tattoo - which somebody was trying to cut out – confirms that he's an ex-con. The tattoo indicates that the victim was involved with a violent element in prison, though Booth, from his own experience in jail, warns Brennan not to pre-judge the man, who may have had to join a gang to survive. The investigation leads to a local bakery known for employing former felons. When Booth and Brennan learn that the victim originally went to jail for his involvement in a robbery gone bad, they begin targeting suspects from the ex-con's past. Suspects include his girlfriend who didn't report him missing in case he got in trouble with his parole officer, his boss and ex-con co-workers at the bakery, and the brother of a woman shot during the robbery. When Booth and Aubrey make a horrifying discovery, it leads to a break in the case. Meanwhile, "squintern" Arastoo Vaziri must decide whether to return to Iran and risk arrest – and worse – to visit his dying brother, which causes friction between him and Cam.
Main Cast
Edit
Intern of the Week
Edit
Guest Cast
Edit
Featured Music
Edit
The actor who played Alex Rockwell played a victim in The Conversation from the spin-off series: The Finder.
Video Gallery
Edit
Community content is available under
CC-BY-SA
unless otherwise noted.