This is the nineteenth episode of the eleventh season of Bones.
The team investigates the death of a popular professional hockey player whose headless corpse was dumped in the river. As Booth and Aubrey question the player's coach (guest star Jeremy Roenick), Booth's depth of hockey knowledge is integral to solving the case, and he's reunited with a hockey rival from his past, putting him back on the ice once again to face off against him. Meanwhile, Hodgins and Oliver have a competition of their own when Hodgins builds two drones and they compete to retrieve the victim's missing head, and Booth and Brennan attempt to declutter their home.
Main Cast:
Edit
Intern of the Week
Edit
Guest Cast
Edit
Featured Music
Edit
Game On The Jet Boys
Also Sprach Zarathustra (Thus Spake Zarathustra), Op. 30, 1. Einleitung, oder Sonnenaufgang (Introduction, or Sunrise)
This episode has two cameos from sports personality Joey "Vendetta' Scolari and former NHL player Jeremy Roenick.
The story of the trophy wife ruining a team in order to move it is identical to that behind the plot of Major League(1989).
Brennan: You don't get rid of books, Booth. That's crazy!
Brennan, watching a video: One more thing, Angela
Angela: I know, I've already tagged the coordinates and pinpointed the location.
Brennan: No, please press the 'thumbs up' button. I find imbeciles amusing.
Brennan: This is very useful, Booth. You're practically an intern on the case.
Booth: All right, stop. Not an intern, don't call me an intern, don't even think about calling me a squint, all right? I just happen to know a little bit about hockey.
Booth: Really, Cam? A flying head?
Cam: Okay, that may be the most confusing phone greeting I've ever gotten.
Daryl Patterson: If Seeley gives me a penalty shot rematch, we can finally settle this debate.
Booth: There's no debate. I took the shot, it went in, we won, you lost, life goes on
Cam: Am I interrupting?
Hodgins,Oliver: Yes!
Cam: Well, too bad. A body from the Anacostia River just came in.
Booth, trying to get Aubrey out of the conversation: Order something, Aubrey
Aubrey: Don't have to tell me twice
Cam: I have to say, I am equal parts scared and fascinated
Aubrey: See, socks, they're like Social Security numbers and diapers: should have only one owner.
Angela, to Cam shows her ring: Oh my God! Wow, it's the engagement ring. Arastoo did good!
Brennan: I agree, as far as well-marketed minerals masquerading as good investments go , this is exquisite.
Cam: Thanks, I think.
Aubrey, when asking Drew Poppleton for an alibi: Where were you working out?
Poppleton: Mainly my arms. It was a bis, tris, and abs day.
Aubrey: Okay, let me rephrase that.
Video Gallery
Edit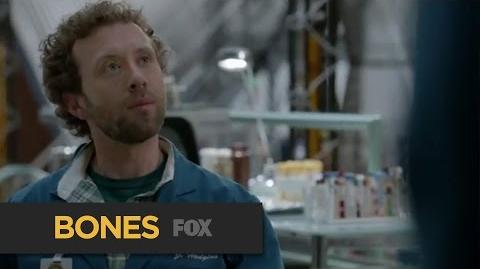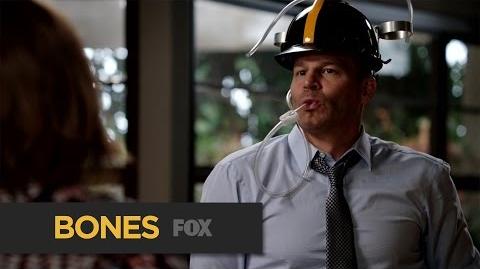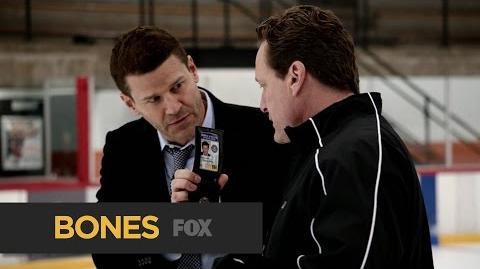 Community content is available under
CC-BY-SA
unless otherwise noted.