This is the third episode of the tenth season of Bones.
With the help of "squintern" Rodolfo Fuentes (guest star Ignacio Serricchio), the Jeffersonian team investigates the murder of a controversial conservative radio host whose remains were found in a storm drain. When the team discovers some of his extracurricular activities, they come across shocking evidence that narrows down the suspects. Meanwhile, Special Agent James Aubrey (former guest star, now main cast John Boyd) is desperate to gain the trust of Booth, and Brennan is worried about Booth's psychological well-being after recent events.
Main Cast:
Edit
Intern of the Week
Edit
Guest Cast
Edit
Featured Music
Edit
Frank Sinatra - I've Got You Under My Skin
Brennan: Booth thinks it's odd, but I find relief working on decomposing remains.
Fuentes: Yes, Booth is correct.
Brennan: I've gone over all the forensic evidence with Agent Aubrey. Remember, it's pronounced "Albi-cans ," not "kahn."
Aubrey: What if I just say "thrush?"
Brennan: No, no! I will not have my science dumbed down just because you don't know Latin, is that clear?
Video Gallery
Edit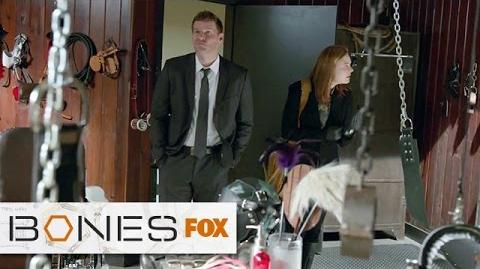 The "short-tailed weasels" that Hodgins identifies as eating the body are actually ferrets.
Community content is available under
CC-BY-SA
unless otherwise noted.