This is the seventeenth episode of the eleventh season of Bones.
A drunk college student discovers the dead body of a Secret Service agent just before a presidential visit to the area. Booth is ready to hit the ground running and turns to Secret Service agent and former colleague Brandt Walker (guest star Michael Gaston) for information, but is surprised to learn the Secret Service has reservations about Booth's involvement in the case. The team uncovers some shocking evidence that heightens the seriousness of the case, causing Booth to step up for his country. Meanwhile, Brennan is out sick with the flu and former intern Dr. Colin Fisher (guest star Joel David Moore) returns to the Jeffersonian to run lead on the case, but Brennan refuses to be kept out of the loop. Also, Hodgins takes his life into his own hands and turns a corner after a potentially dangerous experiment.
Main Cast:
Edit
Intern of the Week
Edit
Guest Cast
Edit
Featured Music
Edit
Angela: That is insane. You went into that chute without telling me?
Hodgins: I also plummeted an entire story before taking hold.
Fisher: Oh Hodgins, how I envy you. You stared death right in the face. Was she as comely as I imagine?
Video Gallery
Edit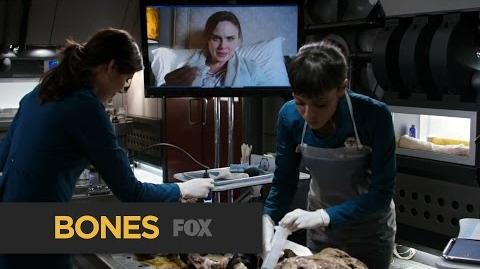 Community content is available under
CC-BY-SA
unless otherwise noted.