GET EXCITED!! Bones Season 8 will premiere on September 17, 2012 and it looks like this season is going to be pretty juicy! Before reading, check out this great Season 8 sizzler reel containing clips from last season-it's the good, the bad, and the ugly!

Now, continue reading if you want to hear some spoilers about the upcoming season!
Warning! Spoiler Alert!
Here is what we have gathered so far about the new season of Bones, and some of this you might already know: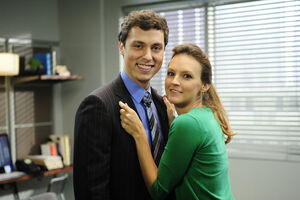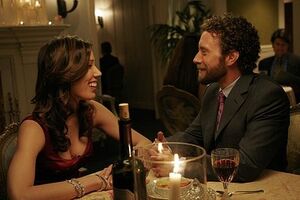 1. Season 8 is going to show more stories from the supporting cast! One of the four bonus episodes is going to have some focus on Angela Montenegro and her domestication and how comfortable and uncomfortable she is with that. Executive producer Stephen Nathan also tells fans that there will be something going on in Lance Sweets's life. He explains, "Sweets' life will take a turn. He's been very complacent. He thinks he has a very secure thing going on with Daisy Wick, but I think we're going to try to shake things up for Sweets."
2. Brennan will appear in the first episode but will still be on the run. While she is gone, Dr. Clark Edison (the most senior of her squinterns) will be in charge.
3. Booth and Brennan are somehow going to solve the Jack the Ripper murders (in a way). One of the episodes will take place in a hipster community in which everyone lives a 19th-century lifestyle, but this community will be rocked by murders that seem to be mimicking the notorious Ripper. It also might give Booth and Brennan the chance to play dress-up (yay!).
4. The second episode (called "The Parents in the Divorce") will involve the murder of a high-powered divorce attorney. The plot thickens when the man's wife, Pamela, turns out to have been having an affair with his secretary, Margot! This case hits a little close to home for Booth and Brennan since they are having troubles in their own relationship.
5. Christopher Pelant reappears in Season 8 to cause trouble for Booth and Brennan, and it seems like it will be a lot of trouble since Nathan hints that the evil genius always seems to be one step ahead of the Jeffersonian team!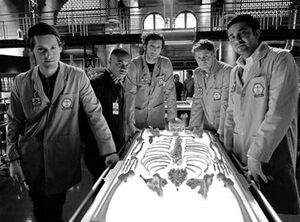 6. For those who love the interns, prepare yourself for an all squintern episode in Season 8! The episode involves the team attempting to solve a mystery regarding a victim of the 9/11 attacks, and all of them are competing with each other to crack the case.
That's it for our spoilers, but make sure to check out the recently released Season 8 promo (Brennan's got a new look!) and get ready for the premiere!!
Links
Community content is available under
CC-BY-SA
unless otherwise noted.