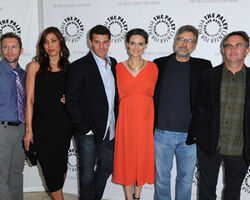 There's been so much going on on Bones that it's hard to keep track of everything! What will happen with Angela and Hodgins's baby? Is Jacob Broadsky coming back? And WHEN will Bones and Booth get together??
Spoiler Alerts! At a gathering in Paley Center, the cast and crew of Bones answered some of our most burning questions! Are you excited yet?
Who's Dying?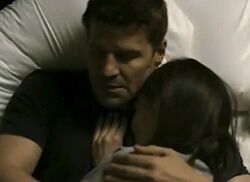 Yes, someone will be dying on Bones! Cue the horrified looks. And it will be a fan favorite...shot by Broadsky. Perhaps it'll send Booth on a rampage...or will it send Booth and Brennan into each other's arms like in this picture!?
End of Bones
There is no specific end date in sight! Yes! Hanson said: "As long as people keep murdering people," replied Hanson when asked how long the show can go on. "As long as these actors are producing what they produce." Sounds like a far cry from Deschanel's original prediction. "I thought three years, tops," she said. "How much can they do with skeletons?!" Turns out a lot, especially when "there's a lot of story between Booth and Brennan," added Hanson. For his part, Boreanaz is up for playing the role "as long as its challenging and stuff is going on. I enjoy playing Agent Booth," he said before jokingly adding, "The money's gotta be f—ing right."
Booth's Childhood
We occasionally hear about Bones's and Booth's troubled childhoods, and we may be hearing more about it next season! We know that Booth is the upstanding man he is today because of his temperamental father; it may be interesting to see more about his past.
Boones?
Booth and Brennan have had that date for ages...and the will they/won't they has always been a factor in the show. Recently Castle's creator, whose Beckett and Castle are somewhat modeled after Booth and Bones mentioned that the two lovebirds of the veteran show SHOULD get together!
And what does Hanson think? "I do give [his comments] credence," said Hanson. "He runs a real show. It's a really good show. He knows what he's doing, so I'd be crazy not to go, 'Oh, that's interesting.' … He's one of those voices you would listen to." But Hanson made sure to point out that listening "doesn't mean I act upon it."
Ah yet spoilers have been pointing to the high possibility that something huge will happen in this season's finale, The Change in the Game.
Bonus!
As a bonus, we have an amazing blog written by someone from Wikia who recently talked to Hanson about Bones! Read it here: User_blog:Kacieh/Inside_the_Minds_of_TV's_Hottest_Writers
Community content is available under
CC-BY-SA
unless otherwise noted.