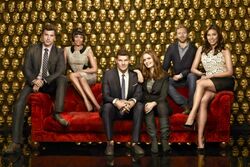 We're back! Finally! Although, so is
Pelant
, and much to dismay of myself and many others, there's no clear end in sight for this somewhat unpopular story arc. True to form, the plotline of
The Secrets in the Proposal
seems to mirror the character relationship of
Bones
and
Booth
. This culminates with the revelation that the killer did the deed "for" the woman he loved. (Maybe Booth will do the same?)
Something I found intriguing - in a fore-shadowy kind of way - was the back & forth between Booth and Beck where not only is an invitation to join the CIA extended, but a get out of jail free "card" is left on the table for Booth. This had me thinking "please, oh please use this to get rid of Pelant!" - although that is probably too obvious a guess for it to turn out that way... Hmmm... "probably," or perhaps "hopefully?" As much as I hate the story arc, I hate predictability even more.
It was nice to see the writers dig deeper into Booth's past for a change, and I have to imagine there will be more of this to come with the introduction of Booth's former priest (turned bartender, of all things) Aldo Clemens. There has to be a lot of stories for him to pass on to us, and since he is no longer of the cloth, he may just be willing to uncork that genie.

Anyway, who really cares what I think, the important thing here is - what did YOU think? Comment below, or:

Add to the episode page | Write your own reaction/review blog
What did you think of "The Secrets in the Proposal"? Was it worth the wait?
Community content is available under
CC-BY-SA
unless otherwise noted.