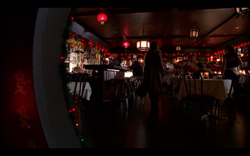 Wong Fu's Restaurant is a fictional Chinese restaurant inside the Bones world owned by Sid Shapiro. Prior to Season 2, it's known to be Booth's favorite place to eat, and in the episode "A Boy in the Tree", Booth brings Brennan who, in turn, attracts Hodgins, Zack Addy and Angela there.
It's the antithesis of the lab at the Jeffersonian, as Sid can tell what will suit the customer best based solely on instinct. Hodgins orders a bowl of Seven Organ Soup for himself and, although it's delicious, the meal comes back on him and gave him heartburn. A second dish, this time recommended by Sid, sets him right however. Sid was angry at Booth because everyone else he worked with was bringing crime scene photos in his restaurant when people were trying to eat, but Sid forgave him as long as they avoid talking about corpses and crime scenes while they were there.
Both Sid and Wong Fu's were dropped prior to Season 2 for unknown reasons. Wong Fu's Restaurant was last mentioned in The Woman in Limbo when Booth brought Brennan Chinese food to cheer her up after she discovered that the latest Jane Doe was her mother.
Community content is available under
CC-BY-SA
unless otherwise noted.